November 14, 2014 Update
CCSAM has signed a proposed Terms & Conditions document and has agreed to enter into a lease agreement with the City of Winnipeg for the seasonal operation of Windsor Park Nordic Centre – for a 5 year term (with an option to renew for an additional 5 years). We are now waiting for the Terms & Conditions to be approved by City Council. Once it is approved it will go through Legal Services Department and a long-form lease agreement will be prepared.
---
January 29, 2013 Update
CCSAM has applied to and been approved for a Western Economic Diversification (WD) Community Infrastructure Improvement Fund (CIIF). See Jan 25, 2013 News Release. This federal grant will contribute half the cost (up to $75,000) of expanding the lit trail system at the Windsor Park Nordic Centre. CCSAM & Windsor Park Nordic Centre will need to raise the balance. We anticipate the total cost of trail expansion to be ~$150,000. Anticipated project completion date: March 2014.
Prior to trail expansion (stage 1 of our "Master Plan", see below), CCSAM and the City of Winnipeg will negotiate a long-term agreement that will allow CCSAM to invest in enhancing winter recreational services out of the Windsor Park Nordic Centre well into the future.
---
September 2011
Information Brief
In 2009-2010, an "Operational Review of Winnipeg Golf Services" was conducted and presented to City Council in May, 2011.  Among other things, this audit report recommended that management of Windsor Park Golf Course be contracted by the City to private companies beginning as soon as 2012.  The audit also recommended that, over the long-term, the golf course could be converted to park, or sold to raise revenue.
In July 2011, the City issued a Request for Expressions of Interest (#497-2011).  This call made no specific commitment, but invited interested parties to submit proposals for "for the development and/or operation" of a number of City-owned golf courses.  Proposals could include "…the purchase of the golf course lands for commercial/residential development, or the long-term lease and operation by the private sector, or any other innovative uses of the golf course lands…".  To date, no results from this request have been publicized.
Actions on either the audit recommendations, or the Expression of Interest could potentially benefit or harm the current operating conditions for Windsor Park Nordic Centre.  CCSAM is actively engaged to ensure that any future decisions help make Windsor Park Nordic Centre the premier Canadian Urban Nordic Centre producing excellence in all its programming and development of high performance athletes.
What We Know
It would be highly unusual for a municipality to complete the sale of such a large, central and desirable parcel of land without engaging in some form of consultation.  In normal cases, the City, or any other owner would be required to conduct public consultation and seek approval of City Council in order to re-develop the Windsor Park Golf Course.
If the City or a new owner wishes to change the use of the land, it would need to be re-zoned.  In addition, to develop the land as commercial or residential property, the long-term plan for the city, entitled "Our Winnipeg", would need to be amended.  Both of these actions typically require consultation.
As in other years, the City has made no formal confirmation that Windsor Park Nordic will be permitted to continue operating from December 2012 to April 2013.  Windsor Park Nordic Centre has operated under these same conditions for nearly a decade.
The City of Winnipeg will inform the Cross Country Ski Association of Manitoba (CCSAM) directly of any decisions impacting Windsor Park as soon as it is able to do so.
Actions taken by Cross Country Ski Association of Manitoba
CCSAM has submitted a vision and proposal to the City of Winnipeg.  The proposal outlines the values, vision and goals for the Windsor Park Nordic Centre and trail network, and requests a long-term lease of the trail network (up to 50 years).  A long-term lease of this nature would provide a basis to secure funding for improvements to facilities, and the stability necessary for comprehensive athlete development and community building.
Has engaged area councilors to inform them of the importance of the Windsor Park Nordic Centre to the continued expansion of cross-country skiing in Winnipeg.
Has participated in public meetings to coordinate and unify neighborhood response to plans for the future of the site.
Is enlisting member clubs from CCSAM to write letters of support for the Windsor Park Nordic Centre.
CCSAM does not hold an official position regarding the conclusions of the Operational Review of Winnipeg Golf Services and is sensitive to the fact that the livelihood of many people may be impacted by decisions made regarding the Windsor Park Golf Course.  We have sought to ensure that none of our actions will have a negative impact on those most likely to be affected.
What You Can Do
Write, phone and email the Councilor for your ward, as well as the Councilor for St. Vital ward, Brian Mayes to inform them of your support for Windsor Park Nordic Centre.  Remember, we are seeking a 25 to 50 year lease in order to achieve program development goals, and upgrade facilities.
Continue to enjoy this facility.
Talking Points re: WPNC facility
Premiere Urban Ski Facility. Unique in Canada. ~10 km of groomed illuminated ski trails within the city, only 10 minutes from Downtown – the only major urban Canadian city that has this kind of facility – including a heated Clubhouse. Trails groomed for classic and skate skiing.
Unique location in Winnipeg – the scenic trails along the Seine River's natural setting offer rolling hills, curves, wind protection & terrain are uniquely suited to cross country skiing and is unlike any other location available in Winnipeg.
Very high usage by the public – up to 30,000 skier visits per season.
Over 500 family season passes sold per season. 1000+ individual season passes per season.
Home of an Adaptive Ski Program including Blind Skiers.
Home of the Winnipeg "Jackrabbit" Youth Ski Program.
Home of the Wednesday Night Race Series.
Home to 2 – 3 generations of skiers. Many families who learned to ski at Windsor Park are now skiing with their children and grandchildren.
Home of Winnipeg's ski Clubs – 7 clubs – and home to all of CCSAM programs and events in Winnipeg, including High Performance Program, special events, host site for Provincial and National Events.
Home of the Chris McCubbins Schools Ski Program – 6 inner city schools – 100+ students.
Venue for many other school, community and youth groups. Off-season training venue for provincial (summer) sport teams.
Full service public Ski School and ski rental pro-shop – we are the largest public ski school in urban Canada.
All costs of operating the facility are paid by CCSAM – grooming equipment, grooming, staffing, utilities, snow removal, ski rentals, lessons etc.
CCSAM installed and paid for trail lighting and installation, storage building, trail development and trail maintenance, grooming machinery and equipment. This has been a major investment of time and money (close to $1 million since the 1970's).
We are looking for a long term lease agreement to allow us to maintain and enhance the delivery of Cross Country skiing to the public.
CCSAM proposes a $580,000 Capital Investment program if we secure an agreement. This program will include an additional 7 km of Illuminated trails, snowmaking equipment to extend and enhance the season, additional and upgraded trail grooming equipment, a new starter and instructor building that can be shared with golf, and an additional storage / workshop facility.
Download the Windsor Park Nordic Centre Proposal – Submitted to City of Winnipeg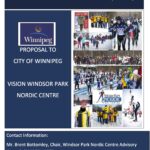 Council, CAO, COO & CFO – September 2011
Download a copy of the Windsor Park Future Information Brief and Talking Points (as read above).
Community groups:
OURS (Outdoor Urban Recreational Spaces)
Save Our Seine
For more information please contact:
Karin McSherry, Executive Director
Cross Country Ski Association of Manitoba
204-925-5639
info@ccsam.ca